Creating a Pet-Friendly Workplace
If you missed out on this webinar don't worry we can still assist you. Please contact us to find out how we can help you make your workplace pet friendly. Our team can provide advice, planning and resources to make it happen.
Tuesday 31 August 2021 5:00 - 6:00 pm
Join us for a FREE online event that we are hosting as part of
Eco Dev Geelong's Geelong Small Business Festival!

The benefits of pets in the workplace are becoming more widely recognised, with many companies now adopting Pet-Friendly Workplace policies.
However, considerations need to be made when introducing pets to the workplace.

In this webinar, Cherished Pets will share the 101 of Pets At Work: why it can be a good initiative (and when to recognise that it's not), and the steps needed to ensure a successful pets at work program.
Come along to our Pop up Pet Op Shop
Saturday 5th October 10am-1pm
We'll be selling some wonderful, quality condition second hand pet goods, including a kennel, leads, strollers and beds!
For Enquiries: admin@cherishedpetcare.com.au or Call 0439094379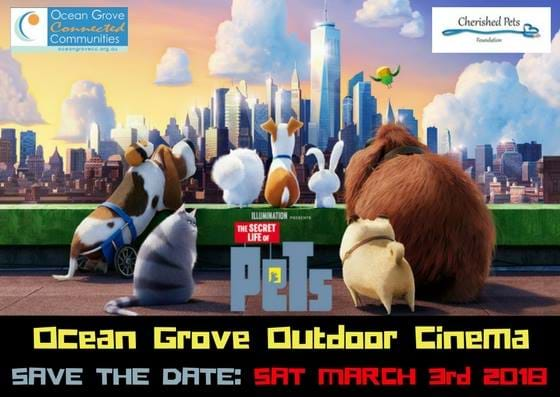 Cherished Pets Outdoor Cinema 2018
"Secret Life of Pets"
It's back by popular demand!!
Cherished Pets and Ocean Grove Connected Communities are bringing you our third dog-friendly outdoor cinema event at Ocean Grove Park.

We'll be screening "Secret Life of Pets" at sundown, and providing pre-movie entertainment, food stalls, kids activities and other activities for all the family.

Dogs are welcome on leads!

This FREE community event is proudly supported by Ocean Grove Connected Communities, Bellarine Memories, RT Edgar, Wallington's WRG, Kyo Yoga, Maggie's Bar and more to come!
(If your business is interested in a sponsorship package please contact us now :)

We also invite a GOLD COIN DONATION AT ENTRY to support our Foundation.

Cherished Pets provides a social veterinary service to elderly folk and people living with disabilities in our community through our charity, Cherished Pets Foundation.

PLEASE REGISTER VIA THE TRYBOOKING LINK to help us with planning. Please also consider making a donation at this link of $5 per adult attending.
Facebook event:

Any questions please post here or contact the organisers directly at admin@cherishedpetcare.com.au or 0439094379.
THANK YOU TO OUR VOLUNTEERS AND SPONSORS FOR MAKING THIS EVENT POSSIBLE!
NAMING SPONSORS:
GOLD SPONSORS
RT Edgar
Kings Funerals/Bellarine Funerals
Wallingtons WRG
Cherished Pets Community Veterinary Care
SILVER SPONSORS
Bellarine Business Advisors
Driftwood Wines
EC Admin
Air Adventure Australia
BRONZE SPONSORS
Maggies Bar
Kyo Yoga
Pawfect Paws
Step into Life Ocean Grove
Edenhills
The Impact Workshop
Press Here Design & Print
Wag&Me
Bliss & Co Wholefoods
Repco
BUSINESS SUPPORTERS
Bellarine Kidz
Dalmatian Driving School
Pawfect Paws
Great Ocean Road Photography
Happy Paws Dog Training
Emma Catherine Studios
Newtown Vet Hospital

Pets, Death & Dying - August 2017
How our pets facilitate conversations around death and dying
An official Dying To Know Day event
Join us for this insightful and reflective exploration of death and dying, and the ways that our pets connect and prepare us for this life event.
Dr Alicia Kennedy is human animal bond veterinarian and founder of Cherished Pets, a social veterinary enterprise that offers palliative pet care and home euthanasia services as well as a signature home pet care service for elderly and disabled people living independently in our community. Through her work, Dr Alicia has identified ways that pets facilitate our very own conversations around mortality and death.
Barbara Allen is an experienced pet bereavement counselor who has supported thousands of families through pet loss. She established the pet loss support service at Lort Smith Animal Hospital and shares a deep and intrinsic understanding of the role pets play in our experiences, attitudes and acceptance of death. As a trained Spiritual Counsellor, Barbara brings a gentle and effective voice to this important conversation.
In this workshop we will engage in a conversation and share stories and strategies that help us manage pet loss, support pets and their people through end of life stages, and develop our understanding of this topic.
This session is recommended for people who love pets, who work with people who love pets, health professionals, service providers, counselors, advance care planning personnel, and those who have recently lost a pet, a know someone who has been affected by pet loss.
Geelong Small Business Expo - July 2017
Cherished Pets Outdoor Cinema Event - Ocean Grove