Christmas Message 2018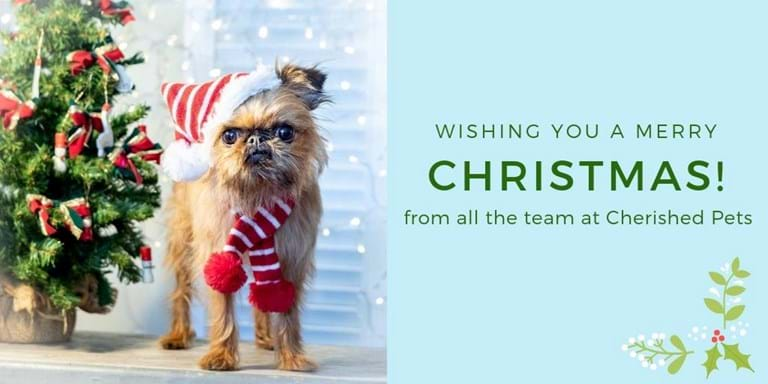 And that's a wrap for 2018!
Wow, 2018 was yet another huge year in the journey of Cherished Pets. As we move in to our 5th year of offering our very special service, we reflect on 2018 and its highlights, lessons and connections.
Thank YOU for the role you continue to play in helping us grow our organisation, and move towards our shared dream so that the benefits and joy of companion pets can be accessible to all.
Whether you are a donor, sponsor, beneficiary, volunteer, client, Board member, business supporter, advisor, neighbour, family member, friend, partner, cheer leader or ambassador – we are grateful.
Special Thanks to our Official Sponsors for the past year: Grace, Kings Funerals, PETStock Assist, The Dove, Bendigo Bank, OGCC, Demeter and Smallest of Wishes.
To our generous donors, our business supporters, partners and suppliers. Thank you.
Special thanks to our Foundation Board for your unwavering dedication and commitment to this cause: Chris Balaam, Barry Sproull, Helen Butteriss, Debbie Taylor, Judy Wookey, Dr Jen O'Dwyer, and Mel Twomey.
To our volunteers and Foundation beneficiaries. You are our reason for existing, and we have loved getting to know each of you better, and more importantly, we love seeing the friendships flourish as our community builds.
We have lost some of our very Cherished people and pets during the year and we take this moment to honor and remember them all, they are missed.
Some of our 2018 highlights include:
Since we started, Cherished Pets Foundation has assisted 55 pet owners, currently 35. We have a volunteer team of 56 volunteers.
We opened Australia's first community pet hub in Ocean Grove.
We have built partnerships with supporters like Pet Stock, Demeter and Smallest of Wishes. We are grateful for funding from Grace Removalists, the All Saints Op Shop in Barwon Heads, the Dove, many other local businesses as well many wonderful private donors.
We had our first crowd funding campaign to help Shifty.
We enjoyed our third Outdoor Cinema event in March.
We hosted an international delegation from International Association of Human Animal Interaction Organisations as our global reputation continues to grow in the human animal bond space.
We are developing our first research project with La Trobe University and Barwon Health to get scientifically rigorous data on the impact of pets visiting their owners when they are in residential aged care.
We launched our Snuffle Mat Project and enjoyed a wonderful community action day with students at Northern Bay College.
Cherished Pets Community Vet Care received the Geelong Small Business People's Choice Award for Professional Services.
We delivered several community talks – which we love to do!
We continue to advocate for the role of companion pets in human health and wellbeing.
We supported Lucy's Project, a national advocacy organization that raises awareness and support for the link between pets and domestic violence.
Finally, we need to thank our CP ground crew: Glenda, Kylie, Jen, Jenny, Bec, Kym, Tash, Adam, Indi, Alyson, Michelle. These folk are always there, going above and beyond the call of duty, to do the hard yards, providing our special service, holding our organisation and its values, believing in our purpose and backing our team and community.
2018 has been a rollercoaster as we mature as an organisation and grow our mission. When the going gets tough, we are grounded by our purpose that unites and strengthens us all. The continued support and encouragement of our community keeps us focussed forward and we cannot wait for the adventure that will be 2019.
Wishing you all love, health and joy this Christmas.
Love,
Alicia and Natalie
Xx