Molly, A Story of a Rescue Dog
---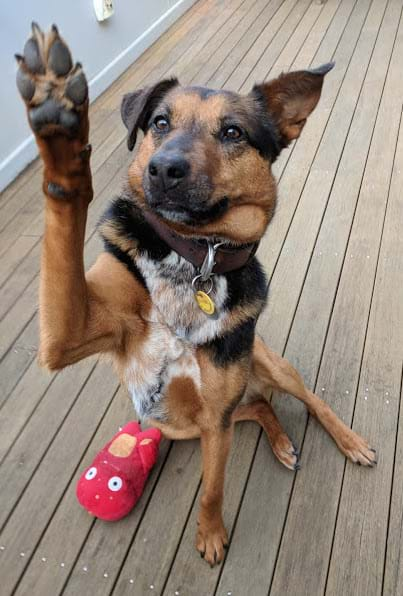 Opening my email inbox at work on a Monday morning there was Molly. I recognised her photo from the night before when I had seen her profile on Pet Rescue. Seeing her in my inbox the following day must be a sure sign, I thought. A work colleague was her foster mum and I had been searching for a dog to adopt since my 17-year-old dog had reached the end of her life, nine months earlier.
It was 2013 and Molly had just been rescued from a rural pound in NSW. On all accounts it was a tough town with a lot of stray dogs. On arriving into foster care, her rescuers spent hours removing the ticks that covered her.
Our first meeting was in my office where she stayed with me at my desk before going for a lunchtime walk. I wanted to take her home but had to convince the males in my house – our senior dog Manga and my partner. The introduction to Manga went well and Molly came to stay for a trial weekend. She knew who she had to convince to move in and it is fair to say she did the job and never left.
I had plans for Molly to be my running companion and possibly an agility dog. She had the prerequisites – energy, intelligence and a work ethic. However, as often happens in life, things didn't go to plan.
We knew before adopting Molly that she could jump high fences. Problem solved – we already had a secure dog run to keep her safe while we were at work.
Then we discovered she loved to chase anything that moved – cars, rabbits, cats, bikes. This shouldn't have been surprising, considering her genes were most likely a mix of cattle dog, German Shepherd and kelpie. This too was manageable, with training.
What turned out to be her most challenging behaviour, which started without an obvious connection to one day or one event, was Molly started being reactive to dogs when out on walks. She would frantically scan the environment, locking on and staring at dogs, whining, freezing, and as the dog got closer… she got louder and lunging at the end of the lead barking. At her worst she would be standing upright on her back legs making a noise that sounded like a scream.
Reactivity: Put simply, is an overreaction to external stimuli such as dogs, people, movement and noise
Once in this zone, Molly couldn't hear, see or respond to me. I could throw treats over her head and they were invisible.
For anyone who has experienced it, you know it isn't fun. It is embarrassing, and you worry about the possibility of it escalating to aggression, where a dog could get hurt.
So, I needed to manage the situation for her so that she could stay within the "zone" that she could cope with.
To do that I needed to be watching and reading her body language, looking for early signals for me to intervene before she "lost" it.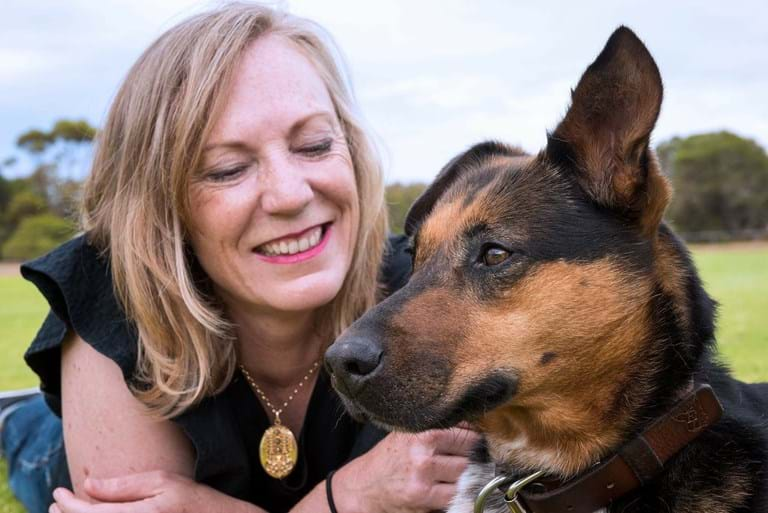 I started managing our walks to reduce the chances of her practising her reactive behaviour:
Walking at 6 a.m. or 9 p.m. when it wasn't busy
Going to locations where there was unlikely to be an off-leash dog run up to us
Making sure I had a good view (no surprises coming at us from around corners)
Avoiding narrow walking tracks or paths where there wasn't room to increase the distance from another dog
Planning escape routes to get out quick if we needed to.
Despite needing to carefully manage our walks, she was still ok with our old dog at home.
In August 2014 we had a sea change and moved house.
Changing her environment affected her behaviour. In the new house she started to be aggressive toward the other dog at home as well as going backwards with her other training.
At this point I decided I needed to get help and contacted the vet for a behaviour consultation.
Molly was prescribed medication that helped her relax and reduced her constant surveillance and quick reactions, giving me a chance to intervene on time and reward more desirable behaviours.
At the same time I worked on a behaviour modification plan.
I spent a lot of time highly rewarding her when she was in a relaxed, lying posture and for giving me her attention.
When she was solid with these skills at home, we practised them at other locations and then in the presence of a calm dog. After taking things very slowly she was able to walk alongside the dog.
We kept practising the relaxation exercises at lots of places keeping her a comfortable distance from other dogs – at the park, at the beach, at home, in the street. Depending on how she felt and on what else was happening at the time that distance could be anywhere between 50 and 200 metres.
Her next challenge was to practise near more dogs. We went to a small dog training class and started working a long way from the group. There were only 4 or 5 dogs in this group and they were on lead so the distance to the dogs could be controlled. We did this for a year. She eventually was able to join the class.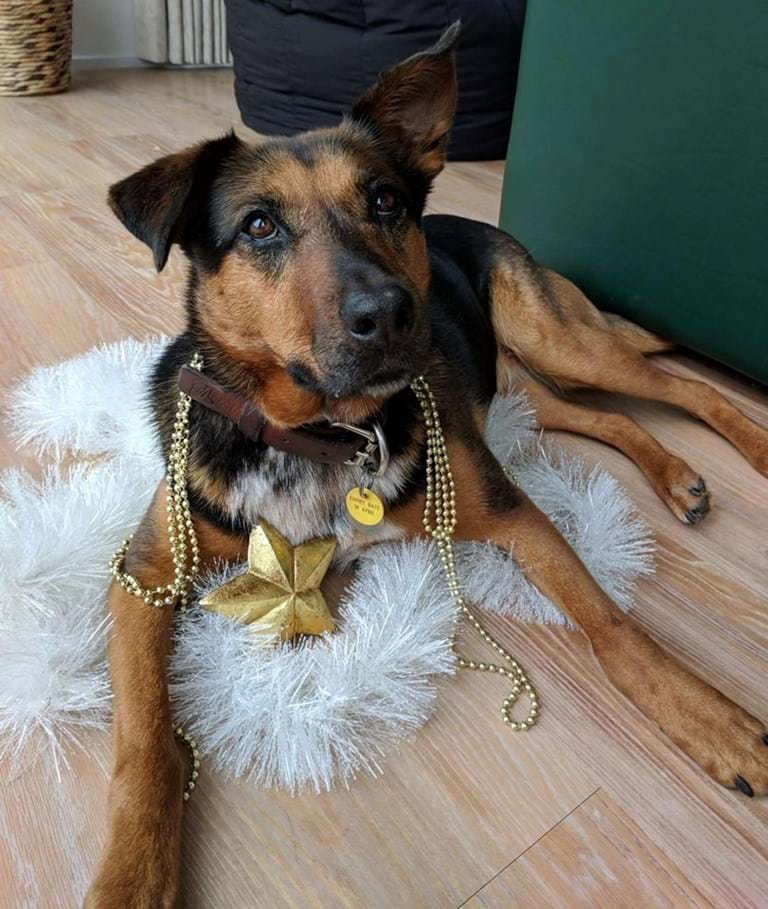 After mastering this I needed to find another incrementally more difficult challenge for her to take the next step. We joined a dog club and did some one-on-one exercises for relaxing, impulse control and engaging her busy brain, with multiple dog classes going on nearby. After another year she joined classes and has learnt tracking, scent detection, tricks and "doggie dancing".
Molly will never be able to run free at an off-leash dog park. That's ok.
I am working with the dog I have, not the dog I expected her to be.
I manage the environment so she can cope and be safe.
She enjoys walks on a long lead at quiet times of the day, hangs out with the doggie friends she is comfortable with, and keeps learning new skills and games.
We are a team, we share trust and we have fun.