Caring for an elderly pet is a full time job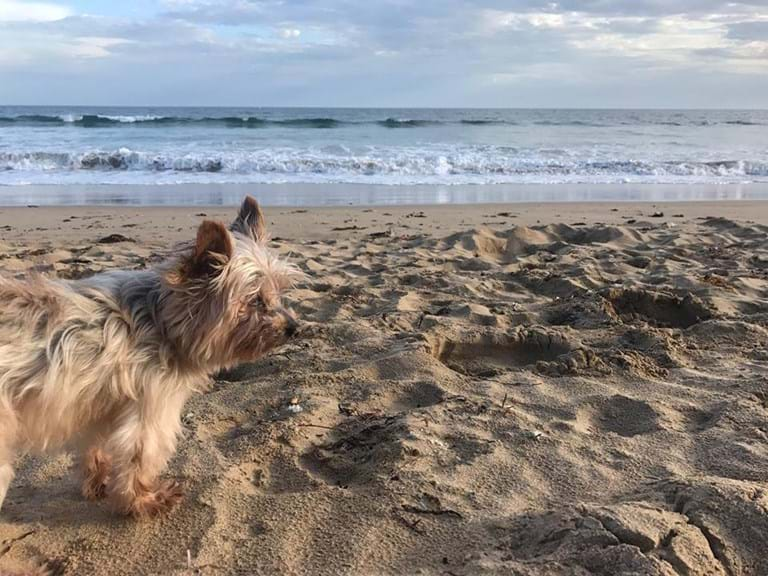 There is nothing like living the experience to learn.
Meet Roxy, our 15 year old blind, deaf, demented 2kg Yorkshire Terrier who has given us several "deaths door" scares over the past two years, but on she goes, defying the odds and living an enriched life, at least during the 2-3 hours a day that she is actually awake.
It is a rollercoaster ride emotionally, financially and physically.
Roxy has dementia and as such night time restlessness, a regression in toilet behaviours and fussy eating habits are present. This requires high level dedication and understanding by her team of pet carers (ie our family). It means some nights having to provide her with extra comfort. It means dealing with piddles inside if we don't manage to give her a walk outside in time. It means having to try a few different foods until she decides she likes one (roast chicken or salmon tends to do the trick!)
I constantly ask myself, "Is it time?"
It's not.
She still has a rich quality of life, she still has her silly moments, she still loves walking around the garden enriching her senses.
Euthanasia is the option we have to assist a pet to die when suffering becomes irreversible and impossible to manage. But this is not yet needed for our Roxy.
As with many other dogs with dementia and old age issues, Roxy's world has shrunk. She sleeps most of the day. But when she is awake she is very much alive and interested in her world, at least that which she can connect to.
Our focus with Roxy is to nourish her senses every day. Through loving touch and massage, tasty warm food, cuddles, talking in a high pitched silly voice because she seems to like that, engaging with her in her silly moments and taking her for supervised toddles in our garden where she loves to smell the roses . We cannot leave her outside as she would get in to trouble. (Accidental death due to misadventure is common in older dogs)
More time is needed to provide the care she needs. It takes love, commitment, patience and dedication. We have an informal rotating roster for who is doing what, when and where with Roxy now. Who sleeps with her at night, who feeds her, takes her for her toddles, and sits with her when she is in a restless phase.
As one wise client commented recently when I mentioned that looking after old pets is a full time job, she replied, "Yes indeed it is, and it's exactly what we would do for our kids".
If you have an old dog suffering dementia please talk to use about a home care plan. Through proper care and medications we can extend and enrich their lives.
We are seeing more and more beautiful elderly pets lead longer, quality lives. This is due to higher level of veterinary care and medications available meaning we can keep our oldies sound and pain free for longer. More importantly, as the human animal bond strengthens, people are doing more to care for their old pets. I am seeing this daily.
Sadly I have seen cases where old dogs are rejected by families due to the inconvenience of providing higher level care. We understand that not everybody is in a position to give the time required, so in some cases, earlier euthanasia may be a kinder solution than rejection.
Whatever your pet's life stage we are here to support you.
The day Roxy is ready to leave us will be heartbreaking, but until that time we take it day by day, working with how she feels and what she needs. My daughter always says when she is looking after her "She has been there for us for a majority of her life, the least we can do is be there for her now that she needs us."