THINKING SUMMER, PETS & THE BELLARINE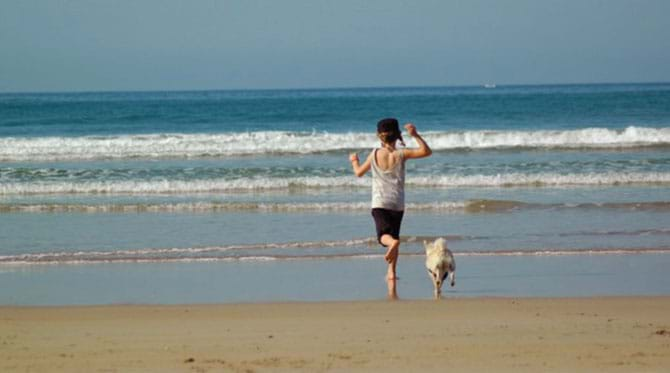 Holiday period dog laws
In peak holiday season from 18 December until 31 January, dogs are not permitted on most of the main beaches of Ocean Grove and Barwon Heads.
Please make sure that you check the signs and only walk dogs in areas they are allowed.
You can also check the City of Greater Geelong website which has maps of dog walking areas.
Pufferfish and blue bottle jellyfish
Pufferfish are regularly seen on our local beaches and they are fatal to dogs even if the fish is dead.
If walking dogs on the beach please keep a close eye on the dog, avoid pufferfish and don't let the dog pick things up in its mouth or eat anything.
If the dog picks up a pufferfish, rinse its mouth immediately with water (even sea water is better than none) and take it straight to the nearest vet.
Do not pick up the fish with your bare hands. If you have a plastic bag, you can carefully use it to scoop up the fish avoiding touching it. Put it in the nearest bin and then wash your hands thoroughly.
At this time of year blue bottle jellyfish are washing up on the beach. Dogs may pick them up or eat them or be stung. Please try to avoid the jellyfish. If you suspect that the dog has encountered one please seek veterinary assistance immediately.
Snakes
Snakes are getting active so be alert for snakes and don't let dogs explore areas of overgrown grass or bushes where you can't clearly see what might be in there.
In the case of snake bite seek veterinary and medical help immediately.
Grass seeds
After every walk please check for and remove any grass seeds that the dog may have picked up, especially check those dogs that have longer coats.
Make sure your check includes looking around the ears, between the toes and under the tail.
Fleas
This is a time to be vigilant with flea prevention.
Food scraps
When walking in parks and near picnic grounds, watch out that dogs don't pick up food scraps or bones.
Heat stress
Don't walk dogs in the heat of the day – keep walks to early morning and late afternoon, early evening. Also make sure that both you and the dog stay hydrated, drink plenty of water. Please also protect yourself from the sun with suitable clothing, a hat and sunscreen. Before walking the dog a quick test is to hold the back of your hand on the pavement and if you can't hold it there for 5 seconds it is too hot to go for a walk.
Holiday crowds
Please keep in mind that holiday visitors will bring their dogs with them. There will be more dogs in your usual dog walking locations and staying at holiday houses that you pass on your walks. Not all visitors may be aware of the local dog regulations, some can be more relaxed in their supervision of their dog when on holidays, and their dogs may behave differently being away from their home environment. Keep an eye out and avoid any situations where the dog you are walking could be stressed or approached by an unfriendly dog. It is best to keep a watch out and avoid these encounters. Some areas that get particularly busy at this time, and it may be best to avoid over the Christmas holidays, is Blue Waters Lake and the Ocean Grove dog beach near Hodgson St car park. If you go to the dog beach it may be less crowded if you enter at Wedge Street. Walking dogs early in the day is also a way to avoid the crowds. Many holiday makers have a sleep in.
EMERGENCY CONTACT NUMBERS: